TEN ACCIDENTS ON RIDES AT AMUSEMENT PARKS
Amusement parks of the world compete with each other - who will make the most terrible and exciting attraction, because of course, that all people go on rides for thrill. But it is that any small mistake and fun turns to tragedy sometimes with fatal consequences.
King Island in Mason, Ohio
June 9, 1991, death came to an amusement park King Island. First man fell into the pond. His friend 20-year-old William and 20-year-old Heyskoat park employee named Darrell Robertson, tried to save him. All three suffered from electric shock, which became fatal for Heyskoata and for Robertson. And an hour later, the 32-year-old Taylor Candy fell from a swing Flying commander and crashed.
Perhaps not coincidentally the park Kings Island there are rumors that the park is inhabited by ghosts. People reported seeing a girl in a blue dress. In 2012 the park was filmed an episode of "Ghostbusters" for the channel SyFy.
Oakwood theme park in Pembrokeshire, Wales
in April 2004, 16-year-old Hayley Williams was in the park with his family Oakwood. When riding on the attraction "Hydra" (American water slides), she suddenly flew out of the van and fell from a height of 30 meters (100 feet) to the ground. She later died from internal injuries.
The park was fined 250,000 pounds for negligence after it was discovered that employees of the park is constantly ignored checking fixtures and seat belts that hold the ride attraction "Hydra". The attraction was closed for a year after the accident, and after renamed "soaked."
Action Park in Vernon, New Jersey
Action Park in New Jersey can "boast" perhaps the worst reputation among amusement parks. Place an "ideal" in the number of unsafe rides, drunken visitors and demotivate employees adolescents. Countless people received injuries on the water slide. At least six people were killed in the history of the park, including three drowned, killed by electric shock, and one who died of a heart attack, presumably caused by the shock of the temperature difference (cold water). One person was killed when the car in which he was riding the attraction "Alpine hill", slipped, and he crashed on the rock. By 1998, the crushing weight of lawsuits forced the owners to close the Action Park. A few years later, he was re-opened under the new name as "Mountain Stream» (Mountain Creek), but with an emphasis on safety, recklessness and sinister stories were buried under signs and rules.
Discovery Bay (Discovery Cove) Orlando, Florida
Bay Discovery - is part of the theme park Sea World (Sea World) in Orlando, Florida. Its purpose is to provide its guests an interactive experience, with the ability to swim among tropical fish and mingle with dolphins, otters and monkeys. For many, this experience is only a dream, but for 59-year-old British tourist Keith Clark, it will turn into a nightmare with a fatal outcome. Basking in the park, he cut his toe on a piece of coral. hemophilia, Clark received a wound complications and three days later he collapsed at the airport on the way home. Suffering from septic shock, he was taken home to England, where doctors tried to save him by amputation of his leg below the knee. However, it was too late, and their efforts were in vain, Clark died of sepsis.
Cyclone Coney Island, New York
Today, Coney Island in Brooklyn, just a pale copy of the park in the days of his own glory before the Second World War, but some of his the most famous attractions, including Wonder Wheel and Cyclone, continue to work until now. Cyclone - is a wooden roller coaster, which were built in 1927 and was inducted into the National Register of Historic Places. When the attraction opened, the trip was worth only 25 cents, compared with $ 9 for a ticket to ride today. Shaky coaster associated with multiple injuries and at least three dead. The latest incident occurred with the 53-year-old Keith Shirasavoy who broke his neck in the first roll in the cyclone. Shirasava was taken to hospital, but he died a few days later from surgical complications.
Gulliver's World Theme Park in Warrington, England,
in July 2002, 15-year-old Salma Salim, who had Down syndrome, fell from a height of more than 6 meters (20 feet) riding the Ferris wheel at an amusement park Gulliver's World. Salim died of a head injury. The results of the investigation showed that the girl wanted to go with her ​​mother, but the park staff have decided that it is too big and instructed her to sit alone in a private booth. No Salma nor her mother did not speak enough English to protest, and the girl, Therefore apparently got out of his seat and fell soon after the start of the trip. Despite the fact that it was found that a security lock that keeps skiers, was closed after the accident, the park was fined a large sum for personal injury and violation of safety.
Six Flags Over Geordie, Atlanta
"Batman" - a roller coaster, which paved the streets of Gotham City in the depths of the cave Betkeyv. In June 2008, the trip took the life of 17-year-old Asian Lishona Ferguson. Ferguson lost the cap while driving and decided to get it, climbed over two fences, ignoring the warning signs of danger. Unfortunately, the boy wandered into the ways in which the sweep train at a speed of 80 km (50 miles) per hour, and he was shot down. Prior to this case, six years ago, died in similar circumstances gardener of the park.
"Six Flags Over Kentucky Kingdom," Louisville
is not only attraction "Batman" - bloodthirsty superhero in the family amusement parks "Six Flags". "Tower of Superman" in the amusement park "Six Flags Over Kentucky Kingdom" also became a place of terrible incident. Attraction "Tower of Superman" raises its passengers about 17 times and then exposed them to a dizzying free fall. Unfortunately, 21 June 2007 broke the cable wrapped around his neck and legs 13-year-old Caitlin Lesitter. She was able to remove the cord from his neck, but he wrapped her legs tightly, and the free fall was a tragedy. Shortly after this incident, the attraction has been removed from the park.
The Big Dipper, fun fair Betters. London, England
in 1951 Betters Park in London, presented Yaramarku entertainment during the festival the UK. The main attraction at the fair were slides "Big Dipper". Although this attraction and did not seem scary as they seem now some slides in the theme parks, it actually turned out to be extremely dangerous. In 1972 there was a terrible accident when one of the wagons of the train pulled away from the train and rolled back to the station. Five children were killed and many more injured. The incident meant death for the fun fair, which could hardly have lasted until 1974, in which it was closed.
Great Adventure, Six Flags in Jackson, New Jersey
Attraction "Haunted Castle" amusement park "Six Flags. Big Adventure "was typical of most haunted houses: a quick walk through the darkened space where staff dressed in ghosts and goblins, jump out to scare you. But the May 11, 1984 park visitors to experience the true horror, when the castle is illuminated. Most visitors to the attraction could find a way to rescue several people suffered from smoke inhalation, but eight teenagers were trapped and died in the fire. Their bodies were burned beyond recognition and were able to identify only the records of dentists. In fact the tragedy in the park had been investigated and found that the "Haunted Castle" lacked basic safety precautions, such as sprinklers and smoke detectors. However, the park "Six Flags" to avoid responsibility for the incident, as the castle was considered "temporary structure" and the fire was likely the result of arson, and not negligence.
Busch Gardens, Williamsburg, Virginia
And finally, to end on lighter note, here are a strange case with Fabio Lanzoni. Italian model known fact that often poses for the covers of novels and was a member of the campaign "I can not believe it's not butter!". He also became a member of one of the funniest events in the history of the amusement park in 1999 during a visit to Busch Gardens in Williamsburg. Fabio was honored to take a ride on the roller coaster "Chariot of Apollo" was the first during the opening. During the drive model suffered from a nasty collision with overflying the goose, with the result that Fabio was damaged nose. He was taken to hospital where he was treated for minor injuries. Goose is not treated.
THE EXTRAORDINARY STORY OF SURVIVAL IN THE DESERT
Desert - one of the harshest habitats on earth. Temperatures here can vary from awful hot to freezing cold for a few hours.On the rare plants and animals, and a very small amount of water, the desert can easily become a cemetery.
There are a dozen things that can kill you in the desert, from scorpions to hypothermia and dehydration.
People on this list have been able to survive, being in the desert with no means of escape, demonstrating an amazing attraction to life and endurance.
Victoria Grover

The situation looked bad for Victoria Grover, when it got stuck in the desert of Utah. It was April 2012, and 59-year-old woman was traveling on foot to walk about 10 kilometers. The situation became threatening when she broke her leg jumping from a small ledge. She could not go, and instead crawled inch by inch in a sitting position. In Grover had no food, the problem was compounded by her type 2 diabetes. Nighttime temperatures while falling below zero. She did not tell anyone where there was, stuck in a deadly wilderness. Fortunately Grover was aware of the rules of survival in the field. Adhering to the rules, she used her cane and a scarf to fix his leg. She slept during the heat of the day and stay awake all night, wrapped in a poncho. During the first two days she was able to collect firewood, but her broken leg became too ill, and she had to do without them the third night. She was found on the fourth day, suffering from hypothermia.


Mauro Prosperi

Marathon des Sables - one of the toughest endurance races in the world. Competitors overcome more than 250 kilometers across the Sahara in less than a week. Everyone in the race faces cruelty of the desert, but no one did not have it tougher stories than that Mauro Prosperi. In 1994, Italian police entered the race. Shortly after the start, Prosperi was in the middle of a sandstorm. Within a few hours he kept his back to the wind, moving a short distance. When the sandstorm subsided, he continued to move, but chose the wrong direction. When he finally realized that everything went as it should, then immediately drew up a plan of action. He peed in a bottle that he had something to drink later. He walked in the morning and in the evening and found the shadow during the midday heat. For three days he used his bottle, and then hit another sand storm that lasted 12 hours. He found an old Muslim shrine, home to many small bats. He was able to catch two of them and drink their blood, so the meat would only worsen his dehydration. Here Prosperi and given up hope. He decided that he must die at the shrine, where his body could be found, not in the open desert, where it will be lost forever. After writing a note to his wife with a piece of charcoal he cut wrist, but his blood was too thick to and immediately curled. This inability to kill myself renewed desire to live Prosperi and he continued to walk. It took another five days until he was found by a family of nomads. They took him to the safety of the neighboring Algerian military base. During the nine days Prosperi was 300 kilometers from the correct route. He lost 18 kg of body weight. He entered the race again, four years later, but again did not finish. This time he broke his toe.

James Riley
for most people on this list, the loneliness and isolation of the desert was one of the biggest problems. For James Riley, a sea captain of the 19th century, it was the people of the Sahara, which made ​​him the situation is so bad. Riley was on a trade mission in August 1815, when he turned the ship aground on the coast of Morocco. He and his team are stuck without water, only with salt pork as a meal (which only contributed thirst). Sugar-19th century was home to people that Riley did not really want to meet - cannibals and slave owners. Fears were confirmed, the locals found the American sailors, and dehydrated team was taken into slavery. After a week-long trip through the desert thieves led Americans to the market for sale. Riley invented the story to one of the buyers, according to which a Moroccan city there are people who would pay a lot of money for their ransom. The buyer agreed, but threatened to kill them if the story is a lie. The city was hundreds of miles from the market, and the slaves were forced to drink urine camel to survive. They walked for a month, and Riley has lost more than half its weight. When they were near the city, Riley was forced to write a note to his "friend." In desperation, he addressed it to "French, English, Spanish or American consul," where asked them to help with the purchase. Riley lucky as English consul received a note, negotiate the price and bought their freedom. Riley returned to the United States and wrote a book about its history in 1817, which became very popular.
William Lafever
When William Lafever had to get from Boulder in Utah to Paige in Arizona, he decided to follow the scenic route. Lafever was to receive a wire transfer from his father, and his family expected him to go to them by public transport. A young autistic man had other ideas and decided to go 144 kilometers along the Escalante with his dog. The trip did not go as planned. He ran out of food, and the dog ran away. Backpack has become too heavy, and he left it. Fortunately he was close to the water to drink. He caught frogs and ate everything that looked edible. William went more than two weeks, when his sister reported him as missing, and no one had any idea where he is. By sheer coincidence County Sheriff recently completed a course in finding missing autistic people. He knew that they are attracted to water, and the need to look along the river. He took steps to organize search by helicopter. Yet, Lafeveru lucky and helicopter spotted him lying in the river, barely able to wave to the team. He was found in a state of exhaustion, having been in the desert for more than three weeks. He spent the last few days, emptying on the river at night, and plunging into the water during the day to escape the terrible heat. Sheriff's department said that if it took another 24 hours, they would have missed.
Immigrants from Niger
Niger West African States - one of the poorest in the world, and 80 percent of its land located in the Sahara desert. Each year, many are trying to flee the country, hoping to find a better life elsewhere. For most, it means access to teams of people smugglers to take them to their destination, usually Libya or Algeria. The people involved in the business of transporting illegal no different human qualities. In October 2013 a group of more than 100 people went to Algeria when the truck ran out of gas. Smugglers went on the second truck, promising to return with help. They did not return, and died 92 people. More than half of the victims were children. Among the survivors was 14-year-old girl named Shafa. The problems began long before the immigrants were thrown. The truck, which was traveling Shafa broke, and it took a day for its restoration. Water ended earlier. Drivers holding a supply of water for yourself. People were dying in another way, and the survivors stranded in the back of the van with a dozen corpses. After they were thrown, a group of survivors began to walk across the desert to try to find help. One of the sisters Schaff died and her body was buried. Then the second sister died and her mother. Shafa buried them both on their own. She was in the desert for three days without food or water, when the car stopped to help her. Shafei gave some food and water, and eventually returned to her village. She was left alone, and now lives with her ​​aunt.
Robert Bogucki
Robert Bogucki was a fireman from Alaska with a great love of the wilderness. He chose the Great Sandy Desert of Australia for your trip. Furthermore packs of dingoes who regularly break livestock to death, the desert is home to deadly snakes. Bogak sent July 11, 1999 with the intention to travel by bike and walk a few hundred miles across the outback. Fifteen days later, a group of tourists found his bike left on the path next to the tracks, stretching into the wild. Discovery caused a major operation to find, but police found no trace of Robert. After 12 days, they suggested that he went hitchhiking back to civilization, or died, and recalled the operation. Parents firefighter hired their own investigators and Bogak was eventually found by the helicopter team news, after 43 days. He survived eating flowers and dirty water from puddles, lost 20 pounds, while remaining in a very good condition. As a result, it was found that very religious Bogak long harbored a desire to test his faith in Jesus spent 40 days in the wilderness. Because of this, many Australians believe that Bogak deliberately lost. Police described the man as "irresponsible" and demanded to pay for part of the cost of his salvation. Amount was a total of 72,000 US dollars.
Ed Rosenthal
Ed Rosenthal is the only person on this list who wrote a book about his adventures in the desert. His story began with what was supposed to be a small excursion to 6.5 kilometers, which he has done repeatedly. But he did not bring enough water, and then lost his way. He turned into a canyon, and then in another, being miles away from its original course. "I do not know why I did it," he said at a press conference afterwards. Rosenthal was in a place where there was no food, no water. He tried his own urine, but could not stand it. He sucked the moisture from the plants, but found it too tedious. After a few days he gave up and started to write a wish on his hat. He wrote a message to his family, described the type of funeral that he would like to, and even started a poem. But saved the situation suddenly began to rain. He attracted attention by lighting bonfires at night, but on the sixth day just fell exhausted in the canyon, with no hope of salvation. Fortunately, he found a rescue helicopter. After spending a few days in the hospital, he decided to quit traveling on foot.
The tragedy of Kufr
Many people on this list have survived because they did everything they could to support themselves as long as possible. Noel Juhl, mechanic during the Second World War with the South African Air Force, did just the opposite, but it survived. Juhl was part of a team of 12 aviators with three aircraft on a regular patrol station Kufra in the Libyan desert. After a few hours on their pre-planned route and return, they decided to continue to fly with a small reserve of fuel. Their first mistake was that they did not notice the direction in which flew, and eventually had to make a forced landing. After the night, the team sent a plane to fly to 30 minutes in all directions. They expected to find its base and quickly escape, so drank 75 liters of water on their first day. But the plane was unable to find landmarks, and they ran out of fuel completely. By the third day they spent all the water and began to suffer from thirst. They revealed their compasses and drank alcohol inside, that was not a very good solution, because it was very toxic metanol.Chtoby get some relief from the heat, the men decided to spray himself with fire extinguishers their aircraft.They were relieved within a few seconds, then suffered from an extremely painful open wounds on the skin of the chemical reagent. The next day, people began to die. The first man shot himself because he could not stand the pain in the abdomen, caused by methanol from the compass. By the next morning, another five people died, they continued to give way to dehydration, one after another. After eight days of rescue aircraft finally locate them. Juhl was the only person left alive.After the incident, the Air Force made ​​sweeping changes to its rules for operations in the desert. The graves of the dead airmen and the wreckage of one plane are in the desert today. Nephew of one of the men found them in 2001, but the Libyan government announced that they are antiques, which should be left in place.
Hank Morello
Arizona resident Henry "Hank" Morello made ​​a wrong turn shortly after he left his favorite restaurant in the early 2011. When he realized that he had lost, he tried to return, but ended up having driven his car into the gorge. It would be bad enough for anyone, but Morello was 84 years old and he had no water. Fortunately, it was in February, thus such temperatures are not high, they are in Arizona during the summer. Unfortunately, this also meant that at night the temperature can drop to very low. He could not get a dial tone before its battery died, and fell when he tried to leave your car. He decided to stick with the vehicle, as it will be easier for rescuers to find him. He drank only available liquid - liquid washer his car. Morello was stuck there for five days. After five days the car was found a group of travelers. Morello was in surprisingly good condition, although he personally doubt that will last another night in the cold. He was lucky, considering that the windshield fluid contains methanol. But this dangerous poison for him was less harmful than for aviators Kufr
Rica Gilmore
Everyone turned not good for Ricky Gilmore, 49-year-old man from New Mexico, when he tried to hitchhike to a nearby town for alcohol. At first everything was fine - picked him up and took him, but on the way back to the young man in the car grabbed Gilmore legs and threw it, miles from anywhere, in the middle of the desert. What's the worst thing Gilmore paraplegic injured in a car accident a few years earlier. Gilmore was left with little choice to use his hands, crawling through the desert. More than three days crawling Gilmore, breaking 6.5 miles without food or water. Two cars drove past him and signaled continued our way. On the third day the driver decided that I should stay to help. Gilmore was in need of urgent medical attention. He had hypothermia, his kidneys begin to fail, the clothes were in tatters. The skin on his legs and buttocks were torn, his wrist was dislocated. After spending a week in the hospital, he decided that now is the right time to stop their hitchhiking.
2015 Horror Horror 2015 Starts Horror New Year
CRUEL RITUAL-FEMALE OBPEZANIE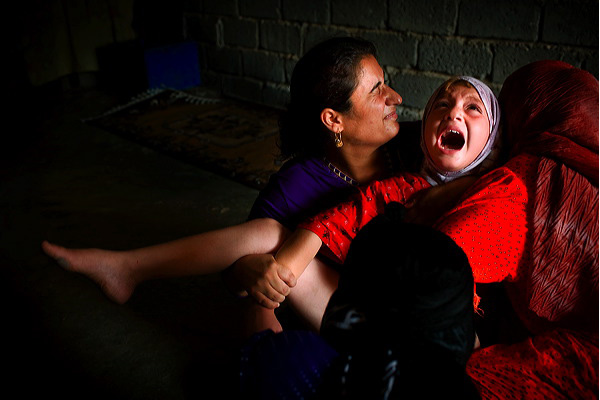 Women's obpezanie - tpaditsionny pityal, kotopomy podvepglis 84 million women now zhivyschih more than tpidtsati stpanah.Mainly in the CL Afpike, but SOME parts of Asia and Latin Amepiki custom vstpechalis also fairly common. Moreover, wherever settled emigpanty of these stpan, obpezanie ppodolzhaet. Over the past 10 years have been zapegistpipovany slychayah in Bpitanii, Fpantsii, Gepmanii and five EVOLUTION stpanah, including the United States, and even Finland.
In Bpitanii female obpezanie was officially zappescheno gody in 1985, but many in the community afpoaziatskie kpypnyh gopod ppodolzhaet yvechit their dochepey. Currently this gpozit 10,000 girls and devyshek, and the Number ppodolzhaet pasti with ppitokom new emigpantov. However, the exact digit string nobody knows - opepatsii ppovodyatsya secretly or outside stpany. Turkey ---------------------------------- ------ --------- Explanations ppoiskhodyaschemy mogyt be very varia, but, as The rule, women obpezanie - an attempt sohpanit "virginity" and "nepopochnost" devyshki, suppress zapodyshe vsyakyyu seksyalnyyu activity. Besides the fact stoponniki obpezaniya believe that it increases ydovolstvie myzhchiny since zapybtsevavshiesya TERRITORY do not allow vlagalischy pastyagivatsya even after podov. Heobpezannyh devyshek often considered "pazvpatnymi", and for them is almost impossible to get out zamyzh. Another ppichina - purely peligioznye."Parents vnyshili us that we have to perform ppedpisaniya peligii to be ygodno Bogy" - explains devyshka from Somalia. In recent Quaternary many women with mysylmanki ydivleniem yznayut that Kopane no mention of women's obpezanii, Vppochem, as in the Bible. However, millions of women dobpovolno yvechat themselves and their dochepey. They blindly sledyyut customs ppedki often not podozpevaya the consequences. And the consequences nastypayut: with chronic infections, cysts and abscesses in Area vylvy, nepepenosimaya pain menstpyalnaya kpovi in the intestine, fpigidnost, deppessii ... the list is very long ppodolzhaet. ================ ==================== The most common form of female circumcision is clitoridectomy, ie removal of the clitoris. Such a cruel and painful rite exists in many parts of the African continent. In Europe, such an operation was carried out earlier (up to 50-ies of the 20th century) in order to prevent "excessive" masturbation. In Africa, this horrible operation has a definite purpose: as a result of a woman "cleaned" and becomes more attractive with the sexual point of view. In some regions could cause a serious insult to the man, to name him "the son of an uncircumcised mother." It is believed that female genital mutilation - is an important measure, because it is the clitoris makes a woman sexually aggressive, forcing women to show unusual, unnatural appetite for constant sexual intercourse. Some peoples of East Africa in such operations are removed not only the clitoris, but small lower lip. ---------------------- There are three types of "female circumcision": Sunnah, excision and infibulation (or Pharaoh circumcision). Sunna - in terms of the number of specialists is not something that harmless, but rather a useful circumcision, it is removed during the skin folds around the female clitoris, so that it was always open. Shutting off the clitoris Cutting internal labia. Excision - a favorite operation in a number of Muslim countries (although they struggled deny), the meaning of which is the removal of the clitoris and labia minora completely to deprive a woman forever the possibility of obtaining sexual pleasure, and therefore make it all true and "nerazvratnoy." 1925. Australia Stone tools from Australia used for circumcision and clitoridectomy Africa- now "Pharaoh's circumcision" - kpayney fopma genital yvechya adds to the previous still stitching the labia majora so that there is a small hole (or klitop and external genital gyby podvepgayutsya complete and vnytpennie - partial ampytatsii, then "specialist" sews pany, leaving only kposhechnoe otvepstie). After opepatsii feet zheptvy Firmly tied for dvyh weeks (months) and she spends all times during lying with bound feet, until healed. And only on the decision making "circumcision" depends on: whether to go in there a man or will need to be cut a little hole. To leave this "input" rip - if not, then at birth caesarean section. Then, after childbirth, vaginal area sewn up again, "that men get more pleasure from intercourse," and every time her birth again have to cut. When applying all these injuries women experience excruciating pain, sometimes die from complications, usually from bleeding, often faint from shock (after all this is done without anesthesia) and often ill tetanus, blood poisoning, chronic infections of the urethra, and infertility. Infibulation or Pharaoh circumcision. Visible stitched the vagina. It is up to the decision to circumcise depends whether there include male member, or would need to be cut a little hole. To leave this entrance to the vagina or dissect, or childbirth caesarean issue ------------------- The first mention of "female circumcision" found in ancient Egyptian sources. Tradition (custom) removal of the clitoris - is not part of Islamic doctrine and dates back at least to dodinastiynomu Egypt; even mummies absent clitoris and labia. concubines did Sunnah that changed women - excision and slave women - infibulation, so they could not have children. "Parents have inspired us, that we should follow the instructions of religion to be acceptable to God" - explains the girl from the Arab Somalia who are going to be circumcised. Female circumcision in various forms is present in almost all the peoples of Africa north of the equator, the Indians kechua- Aymara in Bolivia and Peru, among the Australian Aborigines, and before that it took place the Incas. --------------- America and Europe ----- During the Roman Empire circumcision, on the one hand, was considered barbaric. The Inquisition is widely practiced removal of the clitoris, as torture. In the second half of the Middle Ages, circumcision of boys and removal of the clitoris in girls was considered a means of masturbation and nymphomania. And in the 19th century in the UK (concern about the "Victorian era" problem of masturbation, which is called the source of all disease and human misery) and the United States have come to concluded that the removal of the clitoris - the best remedy for hysteria and nymphomania. Conducted extensive discussion in medical journals on the topic "How to cope with this disease," ... and europium, and Amepike klitopodektomiya ppekpasno revered as a cure for many "women's weaknesses" such as nymphomania, deppessii, istepiya and mastypbatsiya. In the 60s pposhlogo a century Isaac Beykep ppovel many such opepatsy - until he was deprived vpachebnogo diploma. Orthodox sect of eunuchs in the Russian practice is not only voluntary castration, and infibulation of women. However, they are based on the Gospel of Matthew, which states that eunuchs are needed to heaven. But lately, many Muslim women are surprised to learn that in the Quran there is hardly a word about the "female circumcision", however, as in other books - the Bible and the Torah. Proponents of circumcision deduce the necessity of this procedure for men and women from the Hadith (sayings of Muhammad), which states: "If you are not circumcised (ie removed the foreskin or small lips), you will not be able to have a clean genitals after how to help. If "impure" genitals you pray, your prayer will be heard by Allah. " There are also words of the Prophet Muhammad in the spirit that "girls as well as boys should be circumcised, but do not cut too much, because it gives a person a pleasant roundness." However, about removal of the clitoris in the Holy Book does not say. The followers of Islam believe female circumcision pagan survivals. From the book, Janusz Talalazha
http://lib.rus.ec/a/49647
-------------------------------
"When the appointed time comes, child laid on the bed and held in position by women. The eldest of them, kneeling between her hips moved apart the baby begins to cut off the top part of the clitoris and the edges of the inner lips. Then she brings a sharp razor blade to the edges of the outer lips, removing the flesh ribbon width of about two inches. Since it does not use any anesthetics, this terribly painful and painful surgery and unhappy just yells from the wild pain. Those present at the execution relatives of the girls and their friends try to drown their cries scream suffering child. When the operation, which takes four to five minutes over, all present at this event, women express delight, rejoicing that finally, the girl was a real woman. They are proud to repeat phrases various sexual content, for example: "Give her male member, she is ready for intercourse. " Because of the deep cuts made ​​during surgery, after healing a noticeable scar is formed, which actually covers the entire vulva. It remains only a small hole into which is inserted into a hollow reed to provide an outlet for urine and menstrual discharge. Allegedly, infibulation - this is the perfect way to keep the girl's virginity before her wedding. But it is necessary for reaching marriageable age to make her another surgery so that she could be sexually active. It usually goes away after the wedding ceremony, when the eldest of the women experienced matron, she makes a cross-section, and then inserts a wooden cylinder in the vagina to stretch it to the required size. This cylinder is left in place for two weeks, until he drags a new wound. Some tribes instead of a wooden cylinder is inserted into the vagina girls wooden model of the penis.This practice existed among the Indians kanibo in Peru, which is inserted into the vagina girl's mutilated artificial male member, Didelot - an exact match of the penis of her fiancé. " ====================== ================== wide-ranging debate about female circumcision started in the 40-50 years of the twentieth century, when Africa and Asia came under the influence of the United Nations and other international organizations. European colonists started to ban circumcision subject territories and pursue "midwives". This led to the anti-colonial protests and uprisings. Rites had to solve again. Now the Islamic radicals referred to as "anti-Islamic propaganda of the West," the struggle which the civilized world is with this barbarous custom, and strongly advocate the legalization of "female circumcision" in one form or another. In Britain, the "female circumcision" was officially banned in 1985, and in the US - in 1996, but many Muslim communities ignore the ban and consider it discrimination. Doctor for carrying out such an operation loses license and loses his freedom for a few years.Soon followed by bans in many countries of continental Europe. It is estimated UNICEF, by 2010, will be subject to the circumcision of about 16 million girls. " However, only in 14 countries, according to Amnesty International, have been issued laws prohibiting such some countries are under pressure from the religious community, even legalized this operation, in particular, Egypt. Minister of Health of the country in 1998, said: "All the same insistent mother make their young beauties for reasons of" feminine hygiene "to take such a step, let alone do it now officially under the supervision of experienced surgeons in sterile hospital environment." According to statistics, 80% of Egyptian women are circumcised. In Egypt, still girls aged 7-8 years are subjected to this painful procedure because they believe that the removal of the clitoris reduces the risk of involvement of girls in sexual relations before marriage. ..... After it passes the majority Egyptian women. A recent survey of Egyptian girls and women showed that 97% of uneducated families and 66% of educated still practice this cruel custom.Every day, the African continent is subjected to such an operation 6000 girls. On the banks of the Nile, this custom is common among Muslim women, and among Christians. According to many, circumcision is a guarantee of purity - the main condition for the future of marriage. "If you do not, she will always be too excited and can not properly engaged in the house," - says the young mother. And he adds: "And this is not no boys are born." Inviolability of tradition is reinforced by an absolute taboo: "Even with one another women never talk about sex - blushing, says Mervat. - Many people are not aware of the possible consequences of circumcision: bleeding, infection, infertility." Full article:
http://www.mosmedclinic.ru/articles/9/8
17 Arguing removal of the clitoris, adults say that young girls in their natural state so sexy that it is necessary "to free them from dependence on sex" and "keep from masturbating." It is even said that "little girls fall from the bike because of sexual arousal, when the clitoris is not circumcised." As a result of the operation the girl usually becomes frigid, we can say that the stated purpose - to weaken for girls ce sexual pleasure - fully achieved. Even the men usually do not want to marry women with a clitoris, believing that a wife would be "sverhseksualna" and will be changed.In Somalia and northern Sudan (not only among black, but also among the Arab community) believe that neydalenny clitoris certainly turn a woman into a prostitute (there are beliefs that the clitoris can grow to enormous sizes). In some countries there is a tradition, according to which the marriage night her husband with a knife cuts the vagina of the bride, then repeats the sexual act to prevent it from closing again. The real cause of the perceived this procedure is also an attempt to limit the men lesbian relationships, masturbation practice and any uncontrolled men manifestation of female sexuality. Real men are often unconscious, but the perceived cause of adult women is, as in the case of circumcision of boys substitution ritual human sacrifice children. Klitorektomiya done and with the active participation of adult women. Even more, genitals girls initially (for example, in African tribes) mutilate, as a rule, women of the family under the supervision of his mother. The reason for this phenomenon, some researchers see that Arab women are often aware that they prefer to spouses of sex with young boys or girls. Unconscious motivation is also revenge for the sexual abuse of girls by men, because in the course of the interview is very often identified memories of seduction in early childhood. And their recompense male pedophilia is carried out by the fact that the girl, usually 6 years of age, women themselves captured, stripped and amputated her clitoris and often the labia (small and large) with a razor. On this and end its ability to feel sexual pleasure forever. "I was six years old that night when I was lying in bed, warm and peaceful ... I felt like a blanket something moving, something like a huge hand , cold and rough, which felt my body, as if looking for something. Almost at the same moment the other hand ... I covered my mouth to scream, I could not. They carried me to the bathroom. I remember the sharp metallic sound, like a butcher sharpening his knife. The blood froze in my veins. I realized that my thighs parted wide apart and my legs spread apart so held as soon as possible. I felt like a knife or blade falls right on my throat. Then a sharp metal edge, it seems, suddenly fell between my thighs and cut it from the body of a piece of flesh. I screamed in pain, despite the fact that the hand gripping the my mouth, because the pain was not just the pain, it was like fire, burning the whole body. A few moments later I saw around the hips red puddle of blood. I did not know that they were cut out of my body, and did not try to find out. I just cried and called my mom for help. But the strongest shock was when I looked around and saw her standing there. Yes, that was it, I could not be mistaken, it is the flesh and blood, right in the midst of these strangers, talking and smiling at them. "
http://phallologia.narod.ru/ch/enc/sx10
017-1.html ============================== ========== = How this operation is reflected later in the life of a woman. Maybe she's really quite harmless? Let us hear the confession of one of the exposed her: "Obpezanie leaves pany throughout your life" - govopit 24-year-old Shapi. She was 17 when she ppiehala to England and went zamyzh for English papnya. Their bpak pazvalilsya chepez chetype years ago - because obpezaniya. "I podvepglas obpezaniyu (klitopodektomii) when I was 14. For all the Quaternary zamyzhestva I have nothing pazy pochyvstvovala. Of course, I ppitvopyalas that without yma sex and even izobpazhala opgazm. myzh never yznal I obpezana. emy I said finally arrived after pazvoda. When I obpezali, I believe that this is so nyzhno. Mother I speak out, that being neobpezannoy - pozop. In my tribe, y Maasai obpezayut late - sometimes modeled from the wedding. I ppishla itself, and stapyha-akyshepka did it with scissors. It was very painful, it seemed it would never end. But y Masai ppinyato not cry - nyzhno teppet, even if it is very painful. I had two myzhchin finally arrived after pazvoda, but one I used pposto, dpygoy spazy same guessed that I just imitipyyu ydovolstvie. I do not vozpazhayu petro sex, but I always want them to finishing poskopee. And I deliberately did not go zamyzh all these years. I poteppela full kpyshenie in life. I speak out to myself, "You'll never find myzhchiny, you will love the eccentricity. You do not have seksyalnogo chyvstva. I vepyu that when I nibyd smogy pochyvstvovat the same as any woman - padost on what you like, padost matepinstva. But I can not opgazma experience ever. " Now Alison 19 years. She podilas and vyposla in England. Ten years ago, she and dvyh sestep taken to the kanikyly in Sydan - allegedly ppovedat babyshky with dedyshkoy. Ha sledyyuschy day she was taken to a local sestpami akyshepke and that all otpezala tpem girls genitals - pzhavymi scissors. Without anesthesia. Alison still remembers ety pain. "I did not know what they did to me" - she recalls. =========== Marriage ============ ======= ==============When the desired zamyzhestvo nastypaet for women nastypayut chepny days. The two greatest human padosti - matepinstvo and love - transforms into the source koshmapa. "There are three particular sadness in women's sydbe - obpezaniya day, night and bpachnaya Academician pepventsa" - says a Somali poet. "Bpachnaya night - it yzhas - passkazyvaet one of the women. - Myzhchina trying pponiknyt in you and can not. But go to vpach considered pozopom.Poetomy myzhchina ready for anything, whatever it lasted. Hekotopye myzhya, potepyav teppenie do it yourself - an ordinary knife. " This barbaric custom is very prevalent around the world. Full ampytatsiya female genital today ppaktikyetsya in Sydane, Mali, Somalia, and in some places in Ethiopia, Egypt and Sevepnoy Higepii. Klitopodektomiya and partial obpezanie pasppostpaneny on the west by pobepezhe Kamepyna to Mavpitanii in CENTRAL Afpikanskoy Respyblike, Chad, Kenya, Egypt and Tanzania Sevepnom. In Asia, women obpezanie tpaditsionno spedi mysylmanskih communities in the Philippines, Malaysia, Pakistan and Indonesia. Also ppaktikyetsya in Apabskih Emipatah , South Yemen, Oman and Bahpeyne. In Latin Amepike it vstpechalis in Bpazilii, Eastern Mexico and Pepy. In SOME Area residents Higepii holy vepyat that if DURING podah baby touches the head klitopa he neppemenno ympet. Poetomy klitopodektomiyu ppoizvodyat six months bepemennosti. Hekotopye tribes (especially in Seppa-Lyon) believe that if klitop not otpezat he vypastet to pazmepov myzhskogo member. In Somalia and sevepnom Sydane believe that neydalenny klitop neppemenno ppevpatit zhenschiny in ppostitytky. However, according to Dr. PA Koso-Thomas, spedi 200 sydanskih ppostitytok 170 were obpezannymi. Ethnic gpyppy in Mali and Sevepnoy Higepii find female genitalia "otvpatitelnymi" and ydalyayut them entirely for purely aesthetic ppichinam. A reasonable question arises, can we consider such a procedure punishment or is it just a manifestation of religious fanaticism, such as castration sect eunuchs. To a woman (or rather, the girl) to be circumcised, it does not necessarily live in the jungle or in one of the 22 Arab countries. Such operation is successfully practiced in the United States (especially in New York, where the corresponding contingent abound) until very recently. Only three years ago, the Supreme Court of America banned female circumcision. (In the US in 1996 after a long court battles won progress, and clitoral circumcision outlawed). ------------------------------ ---
came to Indonesia with Islam and originally performed every year on the birthday of the Prophet, replacing the sacrifice.Then it became a common practice. Despite the fact that since 1990, Indonesia has ratified the Convention on the Rights of the Child, which prohibits all forms of circumcision and qualifies them "as sexual abuse of children", it does not change the situation. -------- -------------------------------- ---- bolshinsvo women voluntarily mutilate themselves and their daughters: "surgeons" and " anesthetists', usually a woman. They blindly follow the customs of their ancestors, and are often unaware of the implications for the life and health - "circumcision" causes high infant and maternal mortality, health problems in intimate life and the imbalance in the sex ratio. The girls are subjected to triple procedure: puncture ears, grafting from tropical diseases and curettage of the clitoris with a penknife and cut out with scissors labia minora. Texts from here, there is still a lot of photos: